Gay Hawaii Weddings are among the most special celebrations that we participate in. Focusing predominantly on Maui Weddings, the team is also available for gay Hawaii weddings on Oahu and the Big Island. The Federal government has made it so that all States must recognize same sex marriage,  so take advantage of the beauty of Maui for your destination gay wedding. Call today for your intimate beach gay Hawaii Wedding or your full scale party at many of our gay Hawaii wedding venues. We personalize your ceremony with your input so your memories will be truly unique and meaningful.
FOR FAMILY, BY FAMILY
Let us help create that incredible magic on your special day.
Gay Hawaii Weddings … Come Celebrate with us on Maui!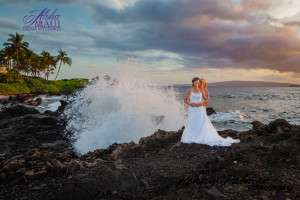 ~~~~~
~~~~~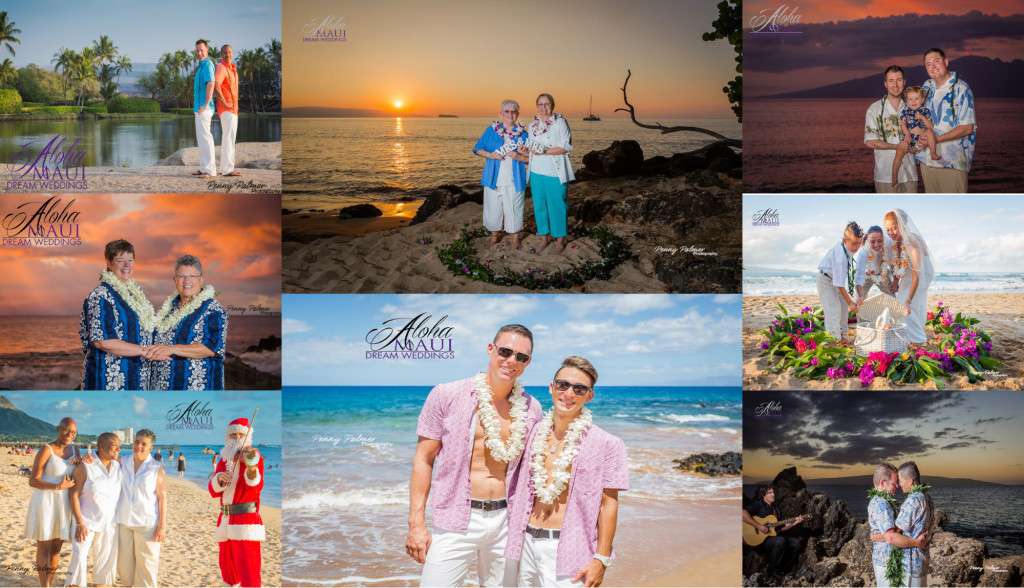 Our Hawaii Gay Weddings were featured in:

the New York Times on June 1, 2014
chosen as Hawaii Gay Weddings Photographer and Minister
"The Evolving World of Gay Travel"

the Gay Las Vegas Magazine, February 2015
(featuring Maui Lesbian Wedding)


A beautiful, memorable gay Hawaii wedding moment…

One of the most traditional, romantic gay Hawaii weddings… we incorporated Native Hawaiian blessings into their ceremony, whispered their dreams for peace and love on the wings of doves, and created a lasting unity sand sculpture to take home with them. They began this journey down a ginger path and ended it with an amazing Grooms' Cake and private dining… all set up by the Aloha Maui Dream Weddings (AMDW) Team.

to the most amazing sunset captured,

we had them covered.

~~~~~

~~~~~

Very special couple wished to share their amazing experience about their Hawaii Gay Wedding as it was happening: (Mahalo!)


~~~~~
We offer beautiful, romantic and personalized lesbian and gay Hawaii weddings. We have talented photographers, amazing hair & makeup artists, experienced ministers, florists, limos, well-known musicians, and gorgeous venues for you to choose from. Inquire for intimate minister only packages or for complete, uncomplicated wedding planning.  Our goal is to personalize every ceremony the way you envision it – from florals to the actual words being spoken. Your wedding day should be a dream come true.
~~~~~
You are unique and so too should be your gay Hawaii ceremony! With more than 100 years combined experience and over 600 weddings to date, we are capable and excited to create your gay Hawaii Weddings! We are home to the original Maui Imagineer who's sole purpose is to help you create surprise romantic gestures for your partner.
~~~~~
~~~~~
. . . . .
Last Minute? No problem!
Text or Call (808) 280-1551
(Same Day A Possibility! Licensing and All!)
The Pacific Ocean as your backdrop, the warm sand between your toes, your beloved by your side…
it's time for your dream gay Hawaii wedding.
We take the time to customize everything, special for you!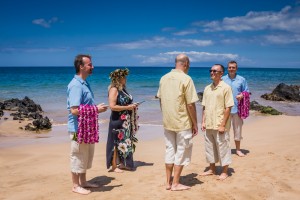 Hawaii gay weddings are always memorable, but your gay Hawaii wedding on Maui will be truly amazing! With our detailed planners for Maui Weddings, compassionate ministers and gay staffing, you will have nothing to worry about and everything to look forward to.  Work with a wedding planner that will take care of all the details of your perfect ceremony.  Choose from a beautiful beach or park ceremony or even a large ceremony at the Country Club, private estate, in front of a waterfall or up on Haleakala. We have a new exclusive partnership with semi-private and private venues that will allow you beach-side dining, private parking, getting ready area and total privacy.
…..
With so many islands to choose from for a gay Hawaii wedding, how do you select one? Maui affords you the opportunity to be busy with many excursions while not feeling trapped by thousands of visitors. It is unique from its island sisters. Reasonable package pricing for your Maui wedding allows you to start with a base package at minimal cost and create your own dream wedding or simply select a Hawaii gay wedding package. Or most popular package is the Plumeria16 package.
…..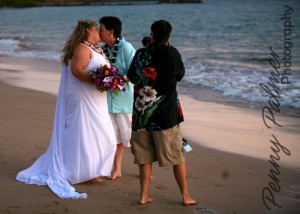 Lesbian and gay Hawaii Weddings are honored in all states that recognize gay marriage or civil unions. We will walk you through the easy process of obtaining your license.
INTERNATIONAL CLIENTS:
We have extensive experience with international gay and lesbian wedding couples so if an apostle is needed, we understand how all that works.
 Click here to Email us for help planning your romantic Maui gay wedding!
~~~~~
Aloha Maui Dream Weddings offer our LGBT Community the opportunity to marry on the Secret Beach, away from public eyes or in front of 100 of your closest friends, whichever makes your celebration perfect…
Maui Wedding Photographer, Penny,
offers high quality, affordable gay wedding photography packages.
The entire Aloha Maui Dream Wedding Support Team is here for you!
~~~~~
You dream it, we plan it.
Leave a comment