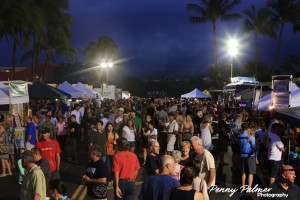 This week there's some hidden gems happening around Maui… Your Maui Wedding Planners want to make sure that you don't miss a beat while you're on island!
Aloha Maui Dream Weddings appreciates you and would like to be more than just your Maui Wedding Planners. We keep our ears to the ground and collect information on upcoming events. If you'd like your event listed here, please feel free to send us the information.  Often we'll attend these events and capture them in photographs to blog about later. We appreciate the fantastic community that we're a part of here on Maui.
Aloha kakou!
May 3rd – Stella Blues Cafe will be featuring the Brown Chicken Brown Cow Group – now who can say THAT won't be a hoot? This is part of their late night series so take your naps early and go check out Stella Blues!
___________________________
May 4th is the 24th annual Maui Onion Festival. If you're a foodie, you're going to love this! This year the featured chefs are Chris Kulis, James McDonald, JoJo Vasquez, Kevin Hanney, Nick Mastrascusa, and Sheldon Simeon. There's going to be so many flavors to try that it'll be hard to chose so bring an appetite!
• Free admission
• Recipe contests
• Games & prizes
• Beer garden
• Maui Onion Pairing Dinner, May 3
• Chef demonstrations • Free parking
• Live entertainment
• Food booths
• Special retailer offers, April 29 – May 4
• Maui Onion Challenge
• Facebook Photo Contest
How can you go wrong? Check out more information on their website.
___________________________
May 5th – don't miss Glenn Frey at the Maui Arts & Cultural Center – show starts at 7:00, tickets are $55, $79, $89 and a limited number of $129 premium seats. Do you remember Mr. Frey? Legendary Eagles singer-songwriter and co-founder… Come listen in as "The Heat is On"!!

___________________________
May 9th – Want to try something totally different than the normal concerts and golf? How about The New Moon Ceremony at the Temple of Peace in Haiku, Maui?
they're located at 575 Haiku Road in Haiku, Maui. Contact them at 310-415-8821 for more information.
___________________________
May 10th – Here's a special "our treat to you" recommendation…  Valley Isle Day Spa is having a very special Spa Party – you must reserve your space ahead of time! Plan your fun Friday night, May 10th from 6-9pm around this crazy-fun event! Try massages, aromatherapy or exfoliation for free! Pupu's and beverages will put you in the mood! Call 808-298-9246 and tell them "Penny Palmer Photography" recommended you go to get a reservation!
___________________________
May 11th –Darci's Birthday… the most important event on this calendar!
May 11th – So, if you're not going to be with me celebrating my birthday, then I recommend you check out HAPA who'll be performinig at Stella Blue's Cafe.  They're having the famous "Supper Club" where $60 gets you a four course meal and a show… nice way to wind out the day.
________________________
This brings us to Mother's Day and that day I'll be celebrating with my own Mom who'll be visiting from California.
May 15th – The incredibly awesome, always amazing Soul Kitchen will be playing at Fleetwood's in Lahaina. We'll be there cheering them on! Come over and check them out and help them sing me a Happy Birthday! LOL
___________________________
Have a great week!   E pili mau na pomaika`i ia `oe!