Finding the right Maui wedding coordinator…
Why do I need a Maui Wedding Coordinator?
Because we make sure your wedding is handled with care, compassion and professionalism.
We offer over 100 years of combined creative wedding services.
Reach your personal wedding planner 7 days/week
Utilize Social Media to stay in the know
We have specialists for international clients  – don't feel overwhelmed when your personal wedding planner is only a phone call away!
Featured in Las Vegas Magazine Article on Romance, February 2015
Featured in the New York Times Article on Travel & Weddings, June 2014

"Everything was above and beyond!!!! You and Penny are amazing, thank you so much again for everything!!!" – B&J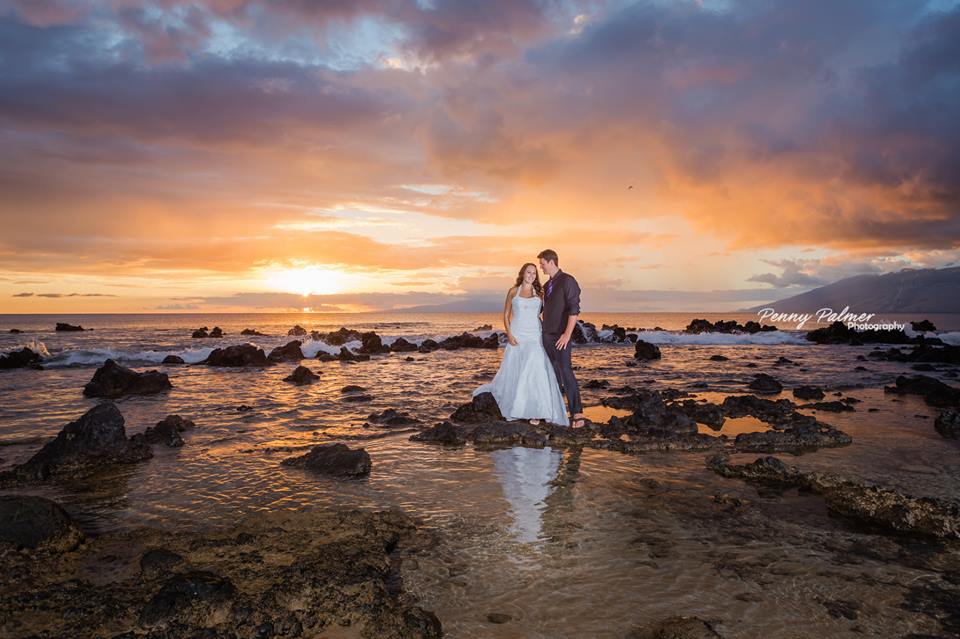 "My dream was always to get married on the beach. Being from Cali I wanted somewhere else. After spending several weekends on the phone interviewing coordinators I booked with Darci. From our first conversation she made me feel real comfortable. She obvious knew what she was doing and wanted nothing more to give but a memorable wedding that I'd remember forever. She booked with Penny Palmer Photography who was absolutely amazing. Let me tell you these two ladies work hard and make an incredible team. Our wedding was fabulous. They went above and beyond my expectations. Several guest commented how beautiful the ceremony was. There was not one bit of stress. Darci is a perfectionist and proved it. Penny Palmer Photography's pictures are just speechless and breath taking. We did trash the dress the day after which was so fun and she took pictures to fit our personality. If you want a fabulous, stress free, perfect wedding just call Darci and Penny. I can't thank them enough!!!"  – C & C

. . . . .
Maui Wedding Coordinator Quick Reference Links:
Click here for Maui Weddings Package Pricing
Click here for Maui Wedding Flower Suggestions
Click here for Marriage Licensing in Hawaii Questions
Click here for Hawaiian Ceremony Options
Click here for Maui Weddings Checklist
 . . . . .
Having access to a Maui Wedding Coordinator Ceremony Checklist is important… but having an actual Maui wedding coordinator for your wedding on Maui is priceless. Being able to relax and know your perfect Maui Wedding Day is in a professional's hands is the key to having the best destination wedding possible.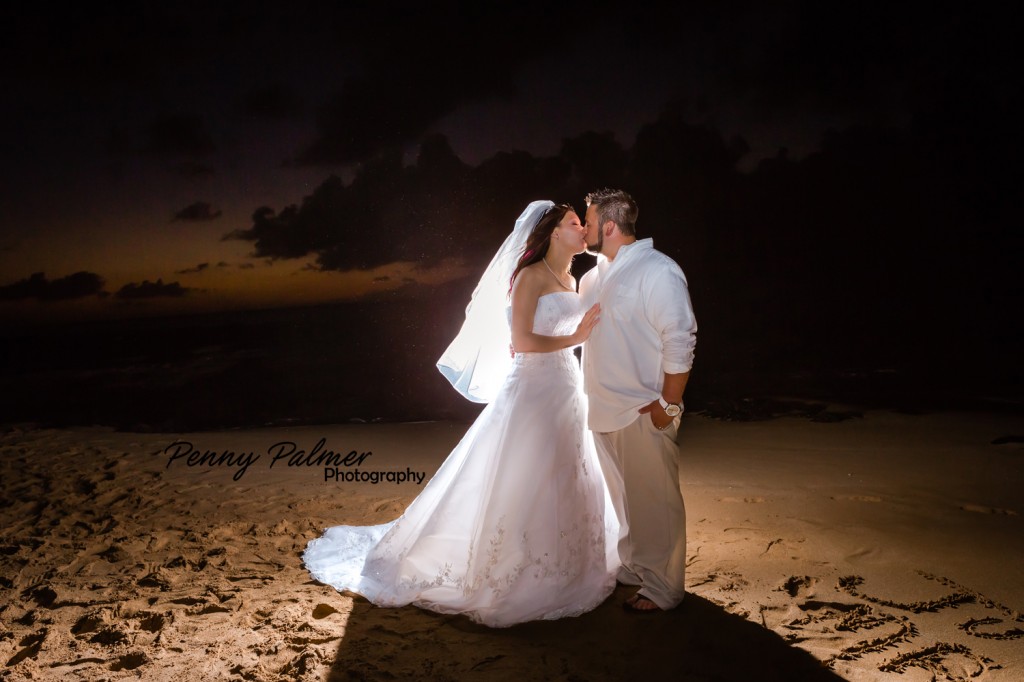 "I could not of asked for anything more perfect, we had a morning wedding and sunset photos. A wonderful musician along with cake that was to die for!! Darci and Penny made our dream come true flawlessly! I am so happy that I chose Aloha Maui Dream Weddings! If I could give them 10 stars I would!! Thanks again guys!" – C & E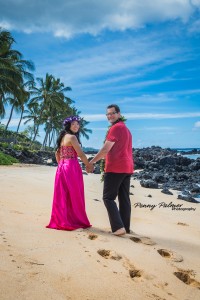 When you're filled with emotion for your special wedding day on Maui, sometimes it's nice to have a few ideas available to you, to guide you toward that perfect ceremony – so use this checklist to help create a magical ceremony that time will never fade! Working with an affordable Maui wedding coordinator who's actually on Maui can be a big help without unnecessary costs built in. Inquire about our free travel & accommodation assistance as well as our free concierge service.
We take pride in being your Maui wedding coordinator. We work with every couple to create a unique ceremony that represents the couple specifically.  Many wedding officiants provide a couple chants and have you finished in 15 minutes without ever getting to know you. We are not that type of wedding planning company but we're sure you've already run across a few of those websites. We care about each individual client and always provide a customized wedding ceremony. It should be about you! If you require any type of translation or assistance, please note that we are also a Deaf-friendly company.
"I have to admit that you had us in tears all over again with the video slideshow. Wonderful job! Thank you for everything." – Bebe & Charre
Your wedding, your way, with Aloha!
~~~~~~
Maui Weddings Flowers
For more suggestions about wedding bouquets, flower circles, sand sculpture hearts and leis, visit our Pinterest page…
According to your experienced Maui wedding coordinator, Maui wedding flowers help add the Hawaiian tradition to a beach wedding ceremony while also offering nervous hands something to hold. The lei exchange is a customary tradition in Hawaii and the colors they bring around your faces really make your pictures pop. We work closely with a couple local florists and lei making specialists to create wedding bouquets, flower circles, hakus, boutonnieres, corsages, maile leis and custom bridal leis for your ceremony at reasonable prices. The flowers should add a dimension to your ceremony while being functional. Here are a few examples: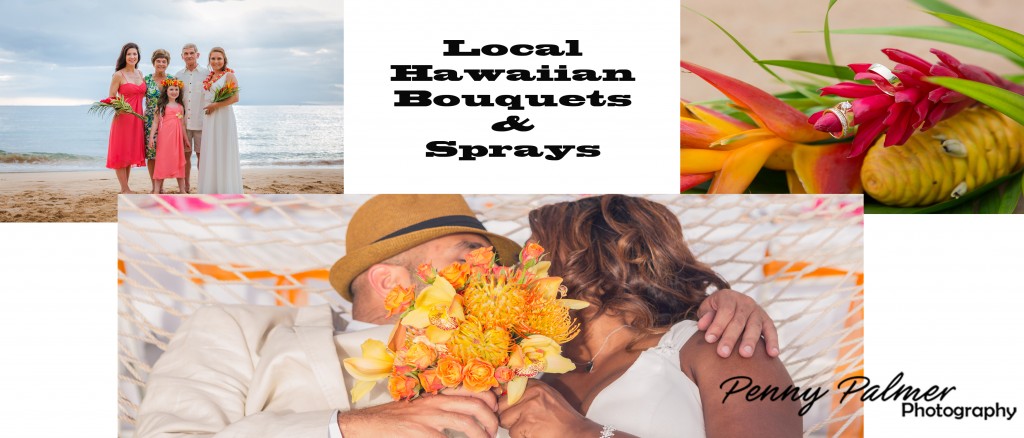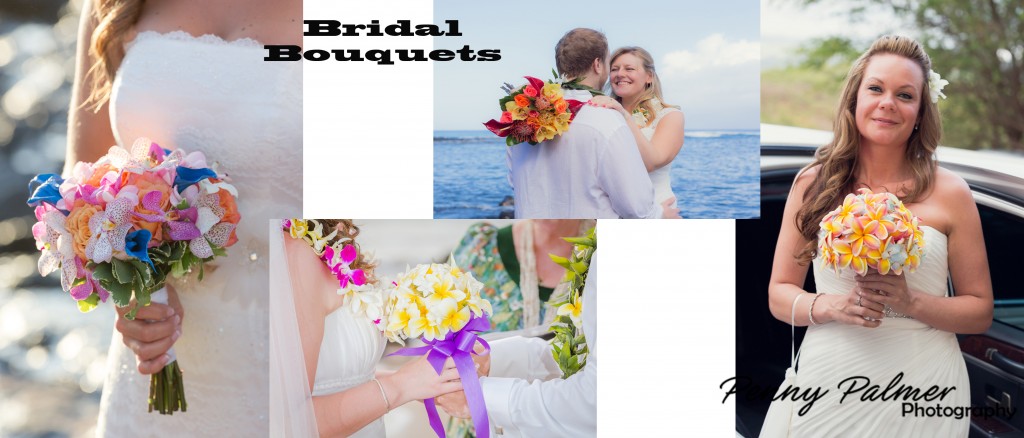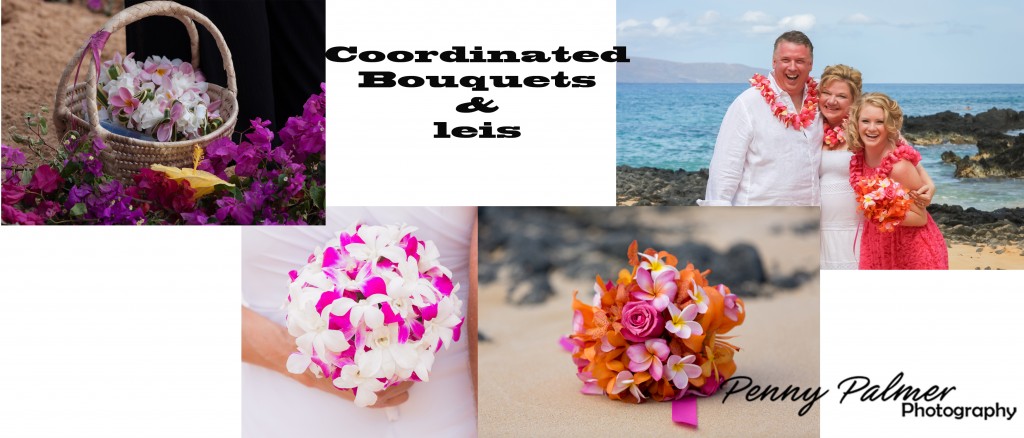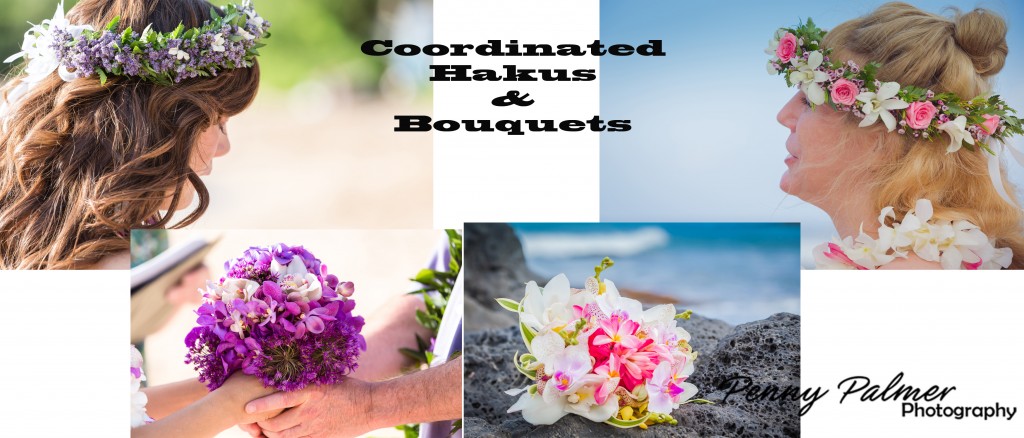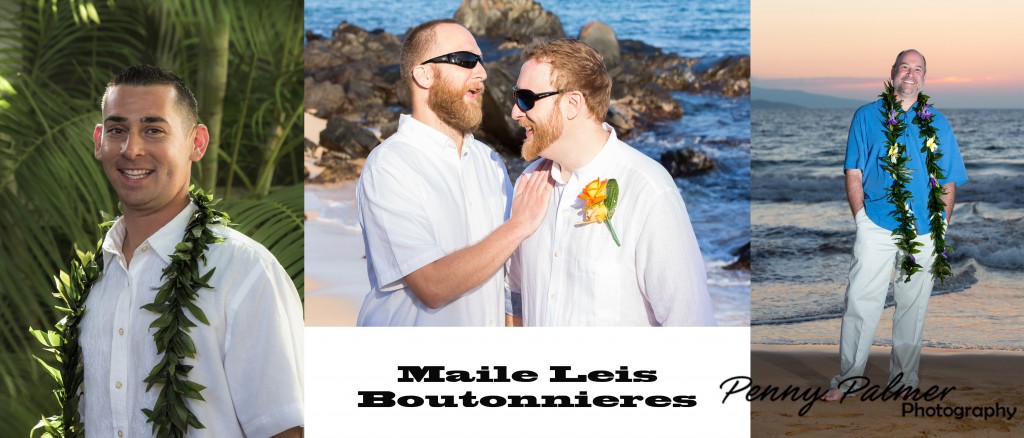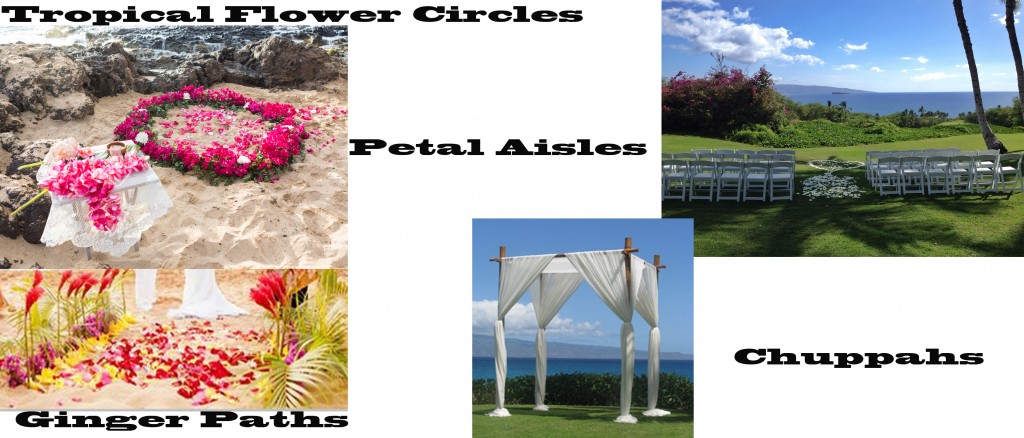 ~~~~~~
We offer unique and traditional Hawaiian Ceremony Options, such as:
Conch Shell Blowing
Remembrance Lei Celebration
Hawaiian Lei Exchange
Unity Celebrations including candles, sand or water
Lava Rock Celebrations
Hand Wrap
Representation of family not Present
Baby Blessings
Blending and Acknowledging two Families into One
Family Unity Sand Ceremonies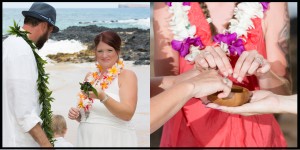 ~~~~~~
If you really want to go it alone without a Maui wedding coordinator, here is the checklist for Maui Weddings, and a very good place to start.
We work with local experts to make sure your entire trip is cared for.  We connect with local, reliable, vendors that can provide the following services without your having to overpay. Everything in Maui shouldn't be expensive.  Take a look at a few of these add-ons that you can select to enhance your wedding day!
Visit our Aloha Maui Dream Weddings Pinterest Boards to get inspiration…
Lady-in-Waiting Services – Assistance at your hotel room with your dress, etc.
Wedding Outfits – Pressing and Cleaning (before and after your ceremony) or on-island rentals
Unity Sand Ceremonies, Lava Rock Ceremonies
Sand sculptures – Three dimensional heart with rose petals or flowers to match your theme
Toast on the beach for up to 30 of your guests
Engraved, personalized champagne flutes
Professional Musicians (ukulele, violin, harp, Traditional Hawaiian Singing, Reggae, Hebrew, Soul, Rock)
Interactive Family Ceremonies, offering inclusion for your children or grandchildren
Professional Photography Packages including Photofusion Videos
Maui Wedding Videography – High Definitiion, beautifully edited cinematography on DVD
Underwater or surfside Trash-the-Dress Pictures: Romantic Individual & Couples' Shots or Fun with Family
Arrive to your beach wedding in a Hawaiian Canoe
Limo, Town Car Services or Wedding Shuttle Services
Airport lei greeting services
Exotic locations – beach, venues or waterfalls
Helicopter Services to remote areas of the island (waterfalls, rain forest…)
Wedding Celebratory dinner hosted by a Personal Chef at your accommodations
Chairs, linens, bamboo arch rentals
Bare Bulb Light Strings, Lounge Sofas, Chandeliers, Tiki Torches for Private Venues
Reception Planning (complimentary reservations or full service coordination including Day-Of)
Local Guest Favors (personalized Hawaiian treats)
Experienced Wedding DJs
Banners
Private Chefs throughout your stay on Maui
Private Concierge Services for your special day or entire trip
Wedding Party Private Spa Days
Bachelor and Bachelorette Party coordination
Wedding Party Private Molokini Snorkel Adventures
Beach Scouting and Reservations
Travel Agent Assistance at no charge for clients
Assistance with your marriage license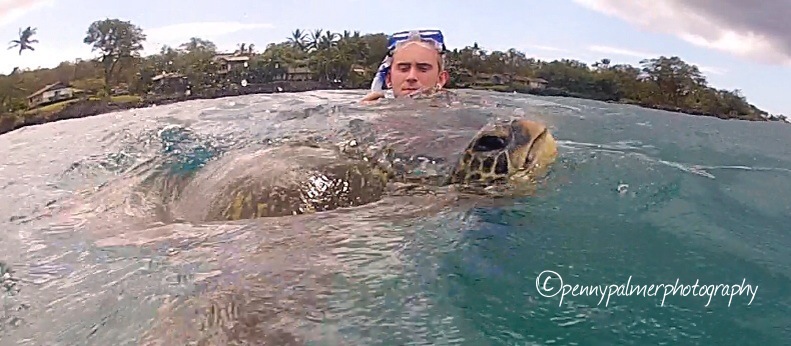 ~~~~~~
State of Hawaii Marriage License Information: What you need to know before and after your Maui Beach Wedding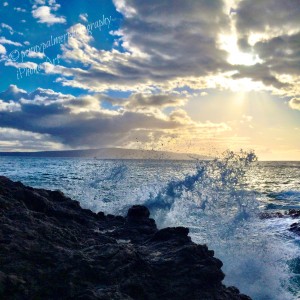 Dream weddings can take weeks, even months, to prepare for but they shouldn't ever be out of reach.
Everyone deserves a dream wedding.
Our Professional Wedding Team can help you put together a beautiful ceremony incorporating Hawaiian traditions without costing a fortune.
~ ~ ~ ~ ~
Maybe you came to Maui simply on vacation… Did the beautiful sunset spark your heart?
Want a last minute wedding on Maui?
Impromptu, romantic weddings and Vow Renewals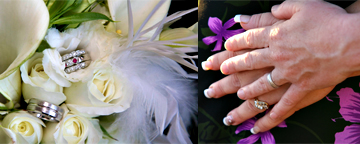 APPLYING FOR YOUR MARRIAGE LICENSE:
Your Maui Wedding Team at AMDW will arrange for a marriage license appointment for you near your accommodations to save you the time you'd normally spend in a downtown business building.
-OR-
You can apply for your wedding license online now at https://emrs.ehawaii.gov/emrs/public/home.html. Please retain your locator ID number.
or print out a copy of the Hawaii Marriage License Application here: http://health.hawaii.gov/vitalrecords/files/2013/05/marriagelicense.pdf
Once you have filled everything out, pay the fees online and you will be issued a locator ID number. AMDW will provide you with your necessary license verification appointment with the State Representative. Having a wedding planner for your wedding on Maui helps take the stress away from your destination wedding.
* For your convenience, at no extra charge, we schedule an appointment for you near your accommodations.*
Take your photo ID's and locator ID number to your appointment. You will be issued a paper license that you will bring to your ceremony. I will file your license for you after the ceremony and notify you so that you may go online and print out your license. Many ministers do not finish your paperwork the same day – we do! Because of our State license and internal processing procedures, within 72 hours you'll be able to download and print a copy of your license that you can use for legal purposes such as medical insurance benefits. You will be emailed when your license has been processed.
The normal processing time for the official marriage certificate is 3 weeks and it will be mailed to your mailing address you provided. To order additional copies of your marriage certificate, go to the following website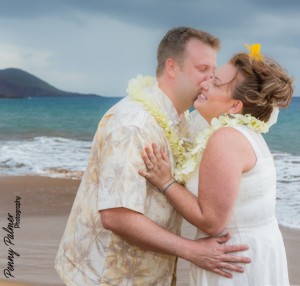 The processing time for the certified copy is based upon the number of marriage licenses waiting to be processed.  There is a fee of $11.50 for the first copy and $4.25 for each additional copy thereafter.
Provided your officiant is registered to file electronically (all Aloha Maui Dream Wedding Officiants ARE registered), you will be able to obtain a temporary certificate 48-72 hours once your officiant has uploaded the ceremony information into the State system. (AMDW Officiants complete your processing the same day as your ceremony – no additional wait time) To check the status of your marriage license, go to the following website.
Once at the website, go to the couples tab then the check status tab. Enter the locator ID provided by the Marriage License Official. You will be able to print your temporary certificate there. The temporary certificate can be used for health insurance, if accepted by your employer. The temporary will not be accepted as a form of proof of marriage for any name changes. Having a wedding planner for your wedding on Maui that is registered in the system can save you time and effort.
~~~~~~
So why do I need a Maui wedding coordinator?
Maui Wedding Make Up Specialists

Maui Wedding Musicians

Maui Wedding Photographers

Maui Wedding Hair Stylists

Attention to details

Getting ready pictures
Because we make sure your wedding is handled with care, compassion and professionalism.
We offer over 100 years of creative wedding services among our team. Why trust anyone else or frustrate yourself planning Maui Weddings from abroad?

Call us for help!  808-280-1551
___________________________________________
Maui weddings beach ceremonies should be more than
a couple pictures and an "I do"…

Maui weddings by Aloha Maui Dream Weddings offers Maui Weddings Couples the very best in Maui wedding planning.
info@AlohaMauiDreamWeddings.com
(808) 280-1551