Aloha! So you've booked the perfect wedding on the beach in Maui  (hopefully with our amazing team) and now you want to book your Maui Wedding Venue for your reception. We can make your dream a reality with some amazing Maui Weddings reception venues. We've partnered with other local business owners to create the perfect ambiance for every budget.
From romantic private dinners for two to private lanais overlooking the coastline for 50, we assist you with all the details.
We're not just about your Maui Wedding, we're about your Entire Maui Experience.
.
.
.~ Ho'omaika'i 'Ana ~
.
.
After your Maui Wedding…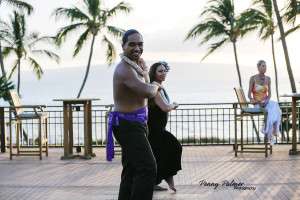 We can host your wedding & reception at popular private venues such as Honua Kai Lani (Sugarman Estate), King Kamehameha Golf Club, the Plantation, Oluwalu, Kahili Country Club, Kukahiko Estates or Sugar Beach.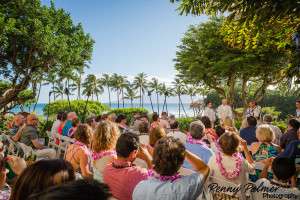 However, if your budge focus is on tangible aspects for your guests and less on overhead costs, we have partnerships with many local venues that allow us the use of private areas so you get that same luxurious privacy feel without the high venue expenditure.
Are you a DIY Maui Bride or Groom? We offer Day-Of Coordination for your wedding and/or reception. Take a step back and enjoy your beautiful day. We know what all goes into an amazing celebration on Maui. Take advantage of our assistance and settle back to enjoy a fantastic day!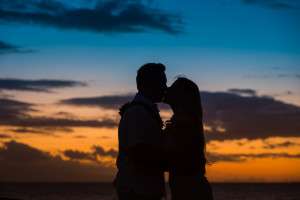 Your wedding, Your way!
Maui Wedding Venue, Luxury Estates and Privates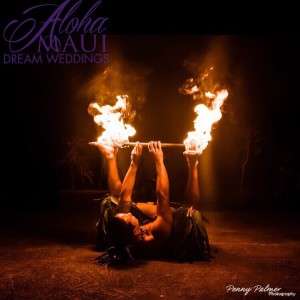 We work with many venues on Maui – both private and public including Honua Kai Lani (Sugarman Estate), King Kamehameha Golf Club, the Plantation, Oluwalu, Kahili Country Club, Gannon's of Wailea, Kukahiko Estates or Sugar Beach Events.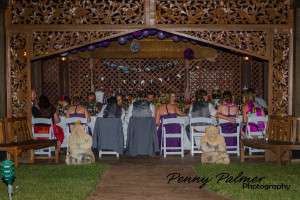 We provide you with cost-effective ways to enjoy Estates on the water's edge or Country Clubs with breathtaking views of most of Maui.
.
.
Your wedding will be the day you'll remember forever. We can help you work magic within your budget. We'll help you to determine what your priorities are in terms of ambiance, venue or culinary delights – where is it you want to focus your budget?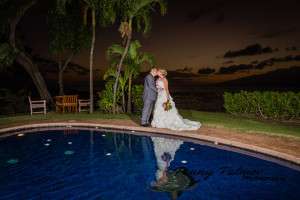 We won't hit you up last minute with hidden expenses. Be wary of those "too good to be true" companies, as many have a reputation for last minute "necessity" costs.
We have an amazing team that works seamlessly together, providing you with a hassle-free day that you'll remember fondly. Whether you choose to have your wedding and reception on the lawn at the Four Seasons, in the privacy of your rental oceanside yard, or at one of our amazing dining partners, Aloha Maui Dream Weddings can keep you relaxed and focused during the whole planning process.
Maui Wedding Venue – Exquisite Alternative Venues
We have worked extensively coordinating receptions at many upscale restaurants, including:
Fairmont KeaLani, Nick's Fish Market, Gannon's of Wailea (a Bev Gannon Restaurant), Mulligans on the Blue, Kono's on the Green, Kimo's, Pacific'O, Sea House, Merriman's, Duke's Beach House in Ka'anapali at the Honua Kai Resort & Spa
Examples of South and West Side Maui Wedding Venues:
~~~~~ SOUTH MAUI HIGHLIGHT OF THE MONTH ~~~~~
This is another one of our favorites for an affordable Maui Wedding Venue. Unlike many venues, this one is affordable to most destination Maui weddings clients. Located in Wailea near Makena, on the southern tip of Maui, just minutes from many beautiful wedding beaches on Maui. From it's amazing new Chef's menu to the breathtaking views of the Pacific Ocean, you will not be disappointed. This venue easily accommodates up to 100 people on the private patio lawn, up to 500 people for a buyout.
Arrive to a friendly staff, including an energetic bartender waiting to get your party started. Sample pupus and congratulate the newly married couple before sitting down to an amazing meal. The hanging lights, white linens, candles, the attentive staff, amazing food, and a theme to match your style … you are transformed into a Maui world all your own.
Bring in our amazing licensed and respected DJ and dance the night away.
(click to enlarge):
~~~~~ SOUTH MAUI WEDDING VENUE – FROM GRANDIOSE TO DIY, WE CAN HELP ~~~~~
Want a space so beautifully designed that we can model it into your dream wedding reception?
Venue 5, one of our favorites (click to enlarge):
.
——>
.
.
.
Venue 3, one of our favorites (click to enlarge):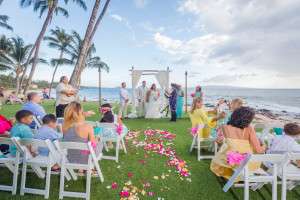 ~~~~~ WEST MAUI HIGHLIGHT OF THE MONTH, Venue 9 ~~~~~
Check out this video of a West Maui location perfect for smaller ceremonies with adjacent reception facility. Watch the sun set as you sip cocktails and dine on the amazing local catch of the day.


.
.
~~~~~ AFFORDABLE MAUI WEDDING VENUE HIGHLIGHT OF THE MONTH ~~~~~
So you've been considering a beach wedding in Maui and suddenly decide that you'd like to add hanging flowers, lanterns, canopies. chairs, wedding cake table and other special affects… then you learn that the State of Hawaii doesn't allow such things on the beach and there's a high cost attached to renting private Maui wedding venues… Now what?
We've partnered with an amazing property to offer that garden-feel wedding on the edge of the beach. Have the best of both worlds – a Maui beach wedding and the Maui wedding venue – for a fraction of the cost.
Welcome to an oasis, hidden away from the public eye. You can't get a more private feel. Our talented wedding photographer will capture both ceremony shots on the property as well as wedding pictures on the beach.
The family's Bed and Breakfast offers the ideal place for bridal parties to get ready. Enjoy a morning massage in the outdoor sanctuary or just gaze at the amazing view while our talented Hair & Makeup Artists pamper you.
Enjoy your wedding night at the Bed & Breakfast and take a quiet midnight stroll on the beach for the first time as a married couple… virtually alone.
Bring in our acclaimed private chef and have your first married meal catered, or head off in a limo to your spectacularly designed reception. Let our team do all the work – your destination wedding will be handled by our expert team at an affordable rate.
"I don't know why everyone doesn't get married this way. Darci took all the worry out of it and I got to just have fun! Thank you!"
-Yvonne, March

info@AlohaMauiDreamWeddings.com
(808) 280-1551
<h1>TESTIMONIALS</h1>
Leave a comment