Gay weddings in Hawaii – who should you contact for help?   What does Maui offer?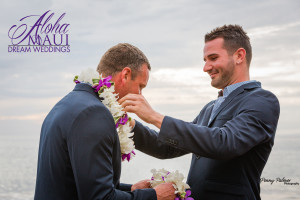 Beautiful blue skies that the trade winds have gently swept clean for your special day.
Warm sand between your toes.
The spirit of aloha present in your ceremony.
The magic that only an island wedding can provide.
Which island should you pick for gay weddings?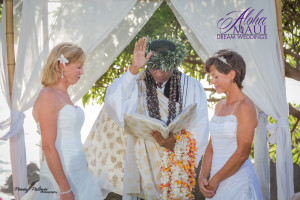 Of course I'm going to say Maui – I'm biased. There's magic in Maui that makes everything absolutely breathtaking. Gay weddings on Maui means you have vivid colors, warm temperatures and a community that welcomes you no matter if you're marrying your high school sweetheart or the soul mate you met last year. Maui offers parks, rain forests and a volcano to provide different backgrounds to your beautiful ceremony. Walk the beach hand-in-hnd, kiss your partner… There's so much life on Maui – it's no ka oi!
There's so many beautiful places to marry on Maui. Some require permits, insurance certificates or permission from the owners. Knowing where you can marry on a budget or which exotic estate can be rented is my job. Your job is to pick the perfect partner and then have the rest handled by passionate, professional Maui locals. Our goal is to provide you with an amazing experience, stress free. We pride ourselves in "For Family, By Family."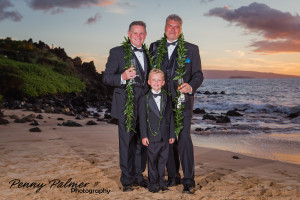 What do YOU want in the way of gay weddings?
Some people want a traditional island wedding – sunsets and sand between their toes. Others want a roaring Harley Davidson ride up to the crater to marry with a breathtaking view of the Pacific as your backdrop. Others still may choose a romantic sailboat adventure out in the Bay surrounded by whales, dolphins and aqua waves. Maybe you have a cultural ceremony to include with your island wedding. Maybe it's just the 2 of you eloping in front of a waterfall… You dream it, we build it.
What should your Maui Wedding Planner offer you?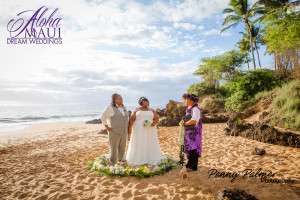 We want you to have the wedding of your dreams without the stress. We provide all the planning guideline you require – from doing everything for you to helping you design and create from abroad.
Aloha and welcome to Aloha Maui Dream Weddings where we aim to make your life simpler and your ceremony unforgettable! Please read our reviews!
Mahalo!