It's decided! You're looking for Elopement Packages Maui and you're ready to begin planning!
Don't f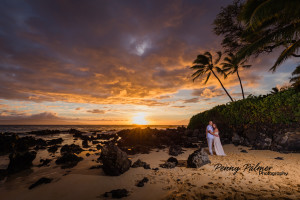 eel overwhelmed – we're here to make that romantic wedding a dream come true while keeping the planning process effortless!
We offer 20/7 service via LiveChat, Text, Email or Phone and have experts in every area of your Maui celebration. Have children? Ask us about our Nanny services. Want a private venue? No problem. We are accepted by the most elite properties on Maui. Coming from another country? We have worked with clients from more than 10 different countries and are fully versed in apostles and foreign requirements.
Elopement Packages Maui
We offer many elopement packages Maui and the other islands, but our most popular is the Plumeria17.  With its combination of professional photography, full coordination services, personalized ceremony and Hawaiian traditions, you're sure to have your personal dream wedding.
Come play with your best friend… leave the beach as husband and wife…
"The Plumeria17" Beach Wedding Packages on Maui, $895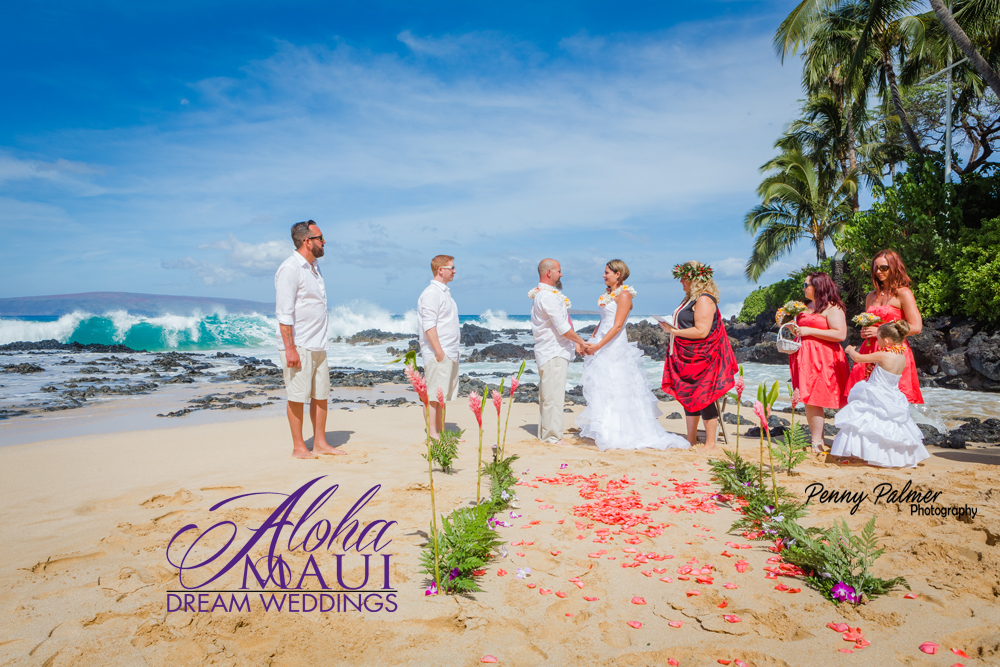 Coordination of your special Maui Wedding
Maui Wedding Concierge Services
State of Hawaii Licensed Minister
Personalized Hawaiian Ceremony
Conch Shell Blow
Unity Sand Sculpture Ceremony, Keepsake Vessel
Commemorative Wedding Certificate
2 Fresh Tropical Wedding Leis
Celebratory Toast on the Beach
Beach Permit and State Mandated Liability Insurance
Assistance with Marriage License Appointment, Available Add-ons
Professional Photography up to 1 hour, ceremony candid coverage & posed portraits after ceremony
Full online gallery of all images (edited)
Photos Delivered: 20 high resolution digital images of clients' choosing
Deposit required – $450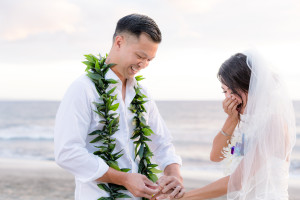 Typically brides and grooms are seeking Maui elopement packages because you've either thought about doing it at home and felt the world begin to spin out of control (both in the number of guests and cost) or you really want an intimate ceremony with just the 2 of you or a few close friends and family.
Either way, Maui is a beautiful place for your new beginning and we are honored to be able to help you.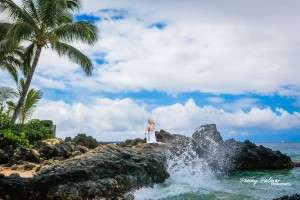 Our packages can be customized to include whichever aspects will make your day perfect. Don't hesitate to ask our LiveChat Operator questions – that's an experienced professional on the other end. Right up to and throughout your holiday here on Maui, you'll have access to staff that can make recommendations or help you locate the best and most convenient of whatever you seek.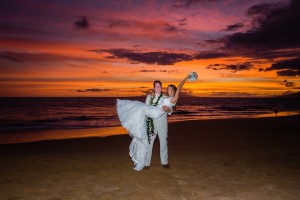 Your ceremony will be designed based on your input – our experienced Maui celebrants and officiants offer nondenominational ceremonies, spiritual ceremonies or religious ceremonies – all of which can be celebrated in Hawaiian style. You will have final say on beach selection after we present you with the top beaches that meet your dream criteria. Allow our limo service to pick you up or take advantage of a chauffeured SUV.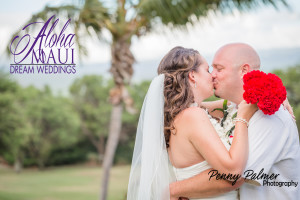 Need a white stallion?
No problem.
Want to be married under a waterfall?
Done!
Dream big because we love a good challenge.
From a recent Client's perspective:
"I went online to look for a wedding planner in Maui. The variety of packages offered by Aloha Maui Dream Weddings is what first caught my attention. I called the phone number and talked to Darci on the phone. I knew immediately that I had found the right person to help us plan our sunset beach wedding. Darci made our wedding a fun and totally stress-free event. Penny Palmer Photography Team took beautiful pictures of our wedding. Darci and Penny are a great team, and made our wedding a totally comfortable and fun event. And they also helped us with questions we had about things to do while we were in Maui. We plan to go back to celebrate anniversaries in the future, and we will call these gals when we are there. Darci and Penny are friends for life!"
-Susan S
TheKnot.com
(https://www.theknot.com/marketplace/aloha-maui-dream-weddings-kihei-hi-963933)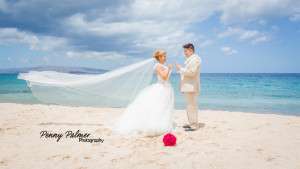 We, at Aloha Maui Dream Weddings, focus on weddings every day.  That's all we do.  Allow our expertise to help you have a have a hassle free planning experience. With our staff of professionals, you're sure to rave about your wedding day back home.  We even have the Maui Imagineer on staff to help you coordinate romantic surprise gestures for your beloved. Enjoy incredible professional portraits, personalized ceremonies, customized music, tailored meals…
However we can help, we will.
Chat with us today and begin being excited for your Maui elopement wedding day!